Brook-Lin Nets: Trust The Process
The logical approach would be to combine the PNR offense of D'Antoni and the motion offense of Budenholzer, but that will be the challenge for Atkinson to be flexible in utilizing his players. Another topic that has gotten a lot of attention is how Brook Lopez does not appear to be a good fit in this offense, as he is staying out in the perimeter shooting threes too often, rather than getting his touches down low and being involved in the PNR. He is one of the best centers in terms of his outside shooting, but clearly he does not have the range from the three-point line. It is possible that Atkinson thinks Brook could expand his range to shoot threes the way Al Horford did as a center for the Hawks, but I don't think that Brook is capable. Surprisingly, Brook shot 33 percent from three on 2.4 attempts, which is respectable, and he did it in just 16.8 minutes in the preseason. However, that is a lot of shot attempts for a player who averages 9.7 percent from three on only 0.1 attempts per game.
A distinct disadvantage of Brook shooting threes is that he is out of position to rebound and I think when he does shoot it, a majority of the shots should be from the corner, which will increase his chances. He should take a three as an element of surprise rather than standing on the perimeter, which I saw way too often in the preseason. Hopefully Atkinson will have the Brook-Lin PNR in his back pocket and will unleash it in the regular season. For his career, Brook averages 18.3 points per game on 51.1 percent shooting and he has always been a highly efficient offensive player, as his PER is 21. He averaged 20.6 points on 51.1 percent shooting last season. The motion offense is designed to produce balanced scoring, but Brook will have to remain an efficient offensive player who will do most of his damage inside.
Even with less pick-and-rolls, one thing I do like about the motion offense is that Lin gets the ball back most of the time after he makes the initial pass to a teammate. I have bad memories of watching Carmelo Anthony, James Harden, Kobe Bryant, and Kemba Walker playing ISO while Lin was a spectator. Lin will have plenty of opportunities to make plays as well as score and as of now, he is the number one option on offense. It remains to be seen how much more Brook Lopez will be involved in the offense during the regular season, but Lin will be heavily featured regardless. The last time he was this much involved in the offense, Linsanity happened. I am so ready to see it again.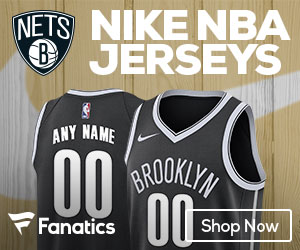 I anticipate a few changes for the start of the regular season on offense, and I am hopeful that the starters will be competitive in most games since the bench looks weak. The starters appear to be set (Jeremy Lin, Randy Foye, RHJ, Trevor Booker, and Brook Lopez), but I'm hoping there could be a change at SG.  Randy Foye is a veteran who could provide leadership, but his game is on the decline and I would rather see Bojan Bogdanovic in the starting lineup to provide more spacing. In his last two seasons, Foye shot 36.8 and 35.1 percent respectively, which is terrible and he is just a 40.2 percent shooter for his career. If Foye does start, he will play limited minutes and both Sean Kilpatrick and Joe Harris will most likely share playing time at SG. Harris is 6-foot-6, so he could get additional playing time at SF especially if he keeps shooting the ball well.