Talking Points #1 – Should the Nets Trade Brook Lopez?
Talking Points #1 – Should the Nets Trade Brook Lopez?
No, because then we wouldn't have Brook-Lin anymore. Case closed!
On a more serious note, this is actually a fairly interesting question. There are valid concerns about Lopez's ability to fit in with the new-look Nets. It might seem silly to say that after his 34-point showing last night against the Pistons, especially after he'd hit 4 threes out of his 8 attempts. Keep in mind, however, that these were just his fifth, sixth, seventh and eighth three-pointer in his entire career.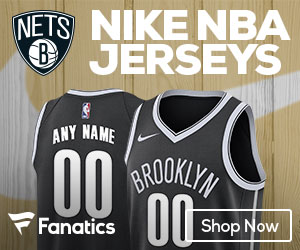 Why is it suddenly so important for Lopez to develop an outside shot? Because centers with range are clearly a big part of Atkinson's freshly installed motion offense. The impression we've got during the preseason games was true – these Nets want to run and hit threes. They're playing at the eight-fastest pace (102.9) and attempting the fourth-most three-pointers (38.4) in the NBA. It's still early going, but this uptempo offense has already become a huge part of the Nets' identity. As the players get more accustomed to constant ball movement and cutting, they should become more efficient in their roles. The motion offense itself is obviously here to stay.
So where does that leave Brook Lopez, a seven-footer who's built his entire career on his post game? Even if he can hit threes at a league-average rate – he's currently slightly under it at 33% – is this really the best use of his abilities? Lopez is at his most efficient as a ball stopper, and he simply won't get many such opportunities anymore. This poses an interesting conundrum: if one of your players doesn't fit in your system, do you change the system or the player? And even if the Nets wanted to accommodate Lopez, there are other reasons that should make them consider trading him.
For one thing, the Nets are still years away from contention. They won't have a lottery pick of their own until 2019, which makes the rebuilding process difficult. The current squad will surprise a lot of people this season, but they're probably not a playoff team. In a situation like this one, does Sean Marks really want a player in his prime such as Lopez? By the time the Nets are ready to contend, Lopez will probably be on the downturn of his career. He only has two more years on his contract, so keeping him around is not going to be cheap either. He'll be 30 in the summer of 2018, so this is likely his last chance at a big payday. Even if he remains loyal to the franchise by taking a pay cut, you're still looking at a near-max deal.
And then there's the fact that the Nets have been very careful with Lopez thus far. In the four games he's played so far, Lopez has averaged a mere 24.5 minutes on the court. For comparison's sake, he's averaged 32.6 minutes per game throughout his career. Furthermore, he didn't even travel to Milwaukee for a back-to-back game against the Bucks. Given that the Nets are not exactly gearing for a lengthy playoff run, it's hard to not be a bit suspicious about these new developments. Wrapping Lopez in cotton wool like this can certainly be interpreted as preserving his trade value.