Nets Win Projections Underestimate The Lin/Atkinson Factor
Last season Yahoo projected the Hornets would win 27 games, but with Lin playing an important "glue" role, they wound up with 48 victories and made the playoffs.
This season ESPN predicted the Nets would only win 20 games.
Understand this. The projections made by national sports sites and writers are really just "educated" guesses, and in most instances you should take the word "educated" with a grain of salt. While it is fairly easy to come up with a reasonable projection for a team that's returning most of its best players–like the Cavs, Warriors, Raptors, and Celtics–those with a lot of new faces like the Nets are much harder to predict.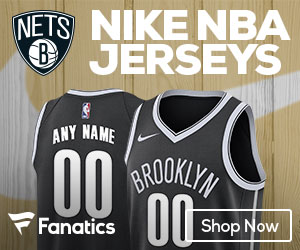 I believe projections for Nets victory total this year are quite a bit off. Why? Because if you really carefully study this Nets roster with its in-season growth potential, and really understand the Jeremy Lin/Kenny Atkinson X factor, the victory bar could significantly be raised, perhaps into the 30+ range and maybe beyond.
Although, yes, I'm a Jeremy Lin fan, I used my 19 years of experience as an NBA writer covering the Knicks and Nets to think outside the box in my projection analysis.
Let's start with Lin and Brook Lopez, a former All-Star center, and the best player on the team.
Lopez is known as a very good pick 'n roll player. Lin, even by those who consider him just a backup point guard, is widely considered among the top PnR point guards in the NBA. The last high-quality PnR guard Lopez played with was Deron Williams, but it came during a time in which Williams was already heading for the down side because of nagging injuries.
That's one reason why I believe Lin is going to help make Lopez an All-Star for the second time in his career. And not only because of Lin's PnR connection with him, but also because the point guard has the innate ability to get the ball to big men in positions where they can score more easily. This combination of adding significant PnR to Lopez's game, and getting the ball to him in the best position, is why I believe the big man might have a career season. Make no mistake about it: a career-best output by Lopez is going to go a long way toward boosting the Nets win totals over the low-ball projections.
I also think what was not considered in those 20-win scenarios is the ability of new head coach Kenny Atkinson to develop and bring out not only the best in guards like Lin, but in big men. Center/power forward Al Horford when he was with the Hawks has widely credited Atkinson for turning him from just a low post player into one who can score in the paint and also play a stretch 4. Under Atkinson's tutelage, Lopez, who already has a strong mid-range shot, may be able to stretch the floor–if not beyond the arc, at least close to it.
And of course, never underestimate Lin's ability to make other teammates better. He's done it on every team he's played for.
With the Knicks, he brought out the best in Tyson Chandler, Landry Fields, and Steve Novak, all three of whom would go on to get lucrative contracts with the next teams they played for. In Houston, Lin helped improve the games of Terrence Jones and Donatas Montiejunas. And, dare I say it? Lin even helped make fumble-handed, defense-and-rebounding specialist Omer Asik into (gulp) a decent PnR center. Two years ago in a bummer season with the Lakers, Lin's PnR partner was Ed Davis, a power forward on a $900K+ salary, who blossomed working with Lin to the point where the next year as a free agent he was signed by the Blazers to a $6+ million dollar deal.