Dwayne Bacon Is The Versatile, Offensive Talent That The Brooklyn Nets Need
Prior to the last home game in April, Sean Marks gave an interview for Nets Magazine on the YES Network when he said that among the number of needs that the team has, "I think we know the 3 position for us is certainly one that needs to be addressed." It was evident by his comments that he would like to see Caris LeVert move from small forward to shooting guard, Marks commented that he would like to "fortify" the small forward position in the offseason. Among the candidates in the draft at the three, Dwayne Bacon out of Florida State has the talent to specifically add scoring and offensive versatility to the roster.
Bacon entered the draft after his Sophomore season, where he averaged 17.2 points on 45.2 percent shooting overall, 33.3 percent from deep, and 75.4 percent at the free throw line along with 4.2 rebounds in 28.8 minutes per game. He is 21 years old and he was the leading scorer on a Seminoles team that went 26-9 out of the ACC and he made All-ACC second team.
Bacon is 6'6″ with a 6'10" wingspan and he was measured with a 36.5 inch vertical at the NBA Combine. He is also well built at 222 pounds. His size allows him to finish well around the basket with contact which is important to be an effective offensive player at the next level. Bacon played the two in college but his size and length should be a fit to be a three in the NBA.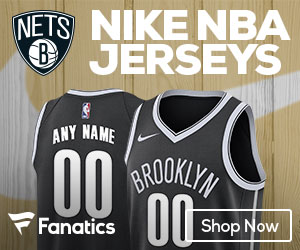 Scoring the basketball is by far the best part of Bacon's game and his versatility is a strength as he can score in various different ways. He is a threat to score from midrange, pull up for a jumper, create space on a step back, and he is able to slash as well. He is really good at driving the ball to the basket with the combination of his strength and athletic ability.
Bacon is not overly quick but he is able to create his own shot with an array of spin moves and floaters in the lane. His moves remind me of Joe Johnson, who the Nets fans know well, and a great similarity is that Bacon also uses his body well to get his shots off and score in the paint. The following video illustrates how he plays like a more athletic Joe Johnson and that is a good thing.
Dwayne Bacon also can push the ball on the break. He is a load when he gets going in the open court, as he shot 59.5 percent in transition and he averaged 1.2 points per possession. In addition while at Florida State, he scored 0.85 points per possession in the pick and roll, which places him in the 73rd percentile among qualified players according to Synergy Sports Technology. He uses a change of pace in the pick and roll while using his bulk to score in a variety of ways either outside or inside. Bacon's solid body as a NBA wing will help him rebound and as a two in college, he was effective on the boards as he averaged 6.9 rebounds per 40 minutes. On defense, his size, length , and strength allows him to guard wing players as well as stretch fours.
Bacon had a good Freshman campaign as he led Florida State in scoring with 15.8 points but the biggest weakness in his game was his poor three point shooting, as he only shot 28 precent from deep. He initially entered the NBA draft but he eventually withdrew his name from and returned to school. The three point shooting improved in his Sophomore season to 33 percent, which is still not good but he made progress from his Freshman year. Bacon was efficient with his two point attempts at Florida State as he shot 50.5 percent and 51.6 percent from the field.