Year End Review: DeMarre Carroll Bounces Back
After a less than stellar two seasons in Toronto which can only be described as a disappointment, DeMarre Carroll regained his peak form in Brooklyn this year and had arguably the best season of his career. Averaging career highs in points, rebounds, and assists per game, he had a fantastic year. But is his sudden resurgence as a key contributor sustainable? Or is it a mere contract-year blip? Let's dive into his season.
Offense:
Shooting Star
Although not necessarily known as a shooter before coming to Brooklyn, Carroll developed into a quasi-marksman for the team this year. With increased opportunity and freedom from the (formerly) iso-heavy brand of basketball of Toronto, Carroll excelled as a shooter.
From day one, he understood his role as an off-ball weapon within the Nets up-tempo offense and thrived within it. His raw three-point percentage won't blow anyone away, but his advanced numbers show that he was an elite catch-and-shoot three-point shooter (38.8% on 4.5 attempts per game). Moreover, a significant portion of his three's (44%) came early in the shot clock. Both stats indicate a level of understanding and comfort in the system that was missing with the Raptors.
Not only was he comfortable taking shots early in the shot clock, but he began actively seeking them out, sprinting in transition to the corners and lurking on the wings waiting for the ball. Watch in the play below Carroll sprints to make the pass in order to set his feet on the wings before draining a three without hesitation:
He's still not on the level of a Bradley Beal or even Jaylen Brown in terms of a pure shooter, but the level of comfort and improvement he's showing should give Nets fans hope for his value next year.
Off The Dribble
As an overall scorer, Carroll made dramatic improvements this year, boosting his efficiency in the pick-and-roll and driving to the rim. He posted career highs in both statistical categories this year as a scorer while at the same time increasing his volume.
Whereas in previous years his impact with the ball in his hands was shaky at best, he became an infrequent weapon for Brooklyn. Just watch how he realizes he has a mismatch with the plodding Damontis Sabonis, and blows right by him for the bucket: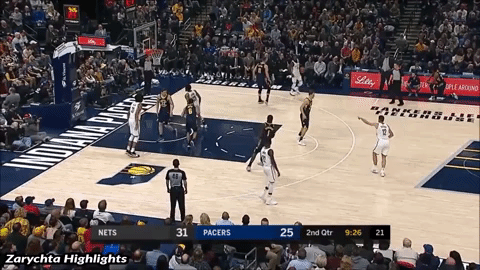 He isn't an efficient isolation weapon, but he flashed his ability to get to the rim (albeit, occasionally).
As for his chops in the pick-and-roll he took a big leap in efficiency this year, scoring a career high .92 points per possession and placing in the 80th percentile in the league. Throughout the year, Carroll demonstrated confidence in the pick-and-roll and was visibly comfortable pulling up for shots like this: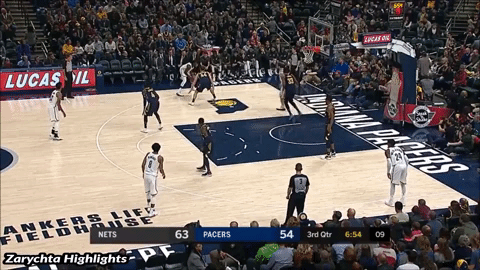 Again he is by no means an everyday weapon as a ball-handler, but he can do more than he could in previous years.
Defense:
Bulldog Energy
DeMarre Carroll had to fight for everything. Although he was a first-round pick, he could barely find the floor for his first three years in the league and regularly moonlighted in the D-League (now, G-League). As such, he plays defense with the intensity that is only really found in players who've been on the fringes in the NBA and stared into the abyss.