Brooklyn Nets Summer League Preview – The Nets
Amidst all the Otto Porter restricted free agency offer sheet craziness, the Brooklyn Nets will begin their Summer League journey on Friday! They play the Atlanta Hawks on Friday on Day 1 of the Las Vegas Summer League. So far, five Brooklyn Nets will play for the summer squad, and two members of the Long Island Nets will suit up as well. That's a little less than half of the 15-man roster, not including recent draft pick Jarrett Allen, who will not play due to a hip flexor injury. Today, let's take a look at the seven Nets related players that will see time on the floor this season.
Brooklyn Nets
Spencer Dinwiddie

Twitter savant Spencer Dinwiddie will be playing in his third NBA summer league, this year with the Brooklyn Nets. Last year, he played for the SUMMER LEAGUE CHAMPION Chicago Bulls, coming off the bench. This summer, after a strong end to the season with Brooklyn, Dinwiddie will look to continue his improvement. Specifically, Nets fans will be watching to see how Dinwiddie runs the point guard position, and how he plays with multiple ball handlers. Dinwiddie's jump shot will also be an aspect to watch, as he improved to 38% from three after shooting less than 20% in his first two NBA seasons.
Archie Goodwin
Goodwin, the last Nets in-season acquisition, was a bit of a surprise when signed to a 10-day deal. Still, the former Phoenix Sun impressed in limited minutes, showing toughness and creativity when moving to the basket. Goodwin, who is surprisingly entering his fifth season this fall, shows potential as a secondary ballhandler. But he has not improved his jump shot much since being drafted in 2013. Goodwin has been, reportedly, been working hard to improve his game. He will use the Summer League to show an improved game. The Nets' guard slots are deep heading into the 2017-2018 campaign. Goodwin could be fighting for his NBA future here.
Rondae Hollis-Jefferson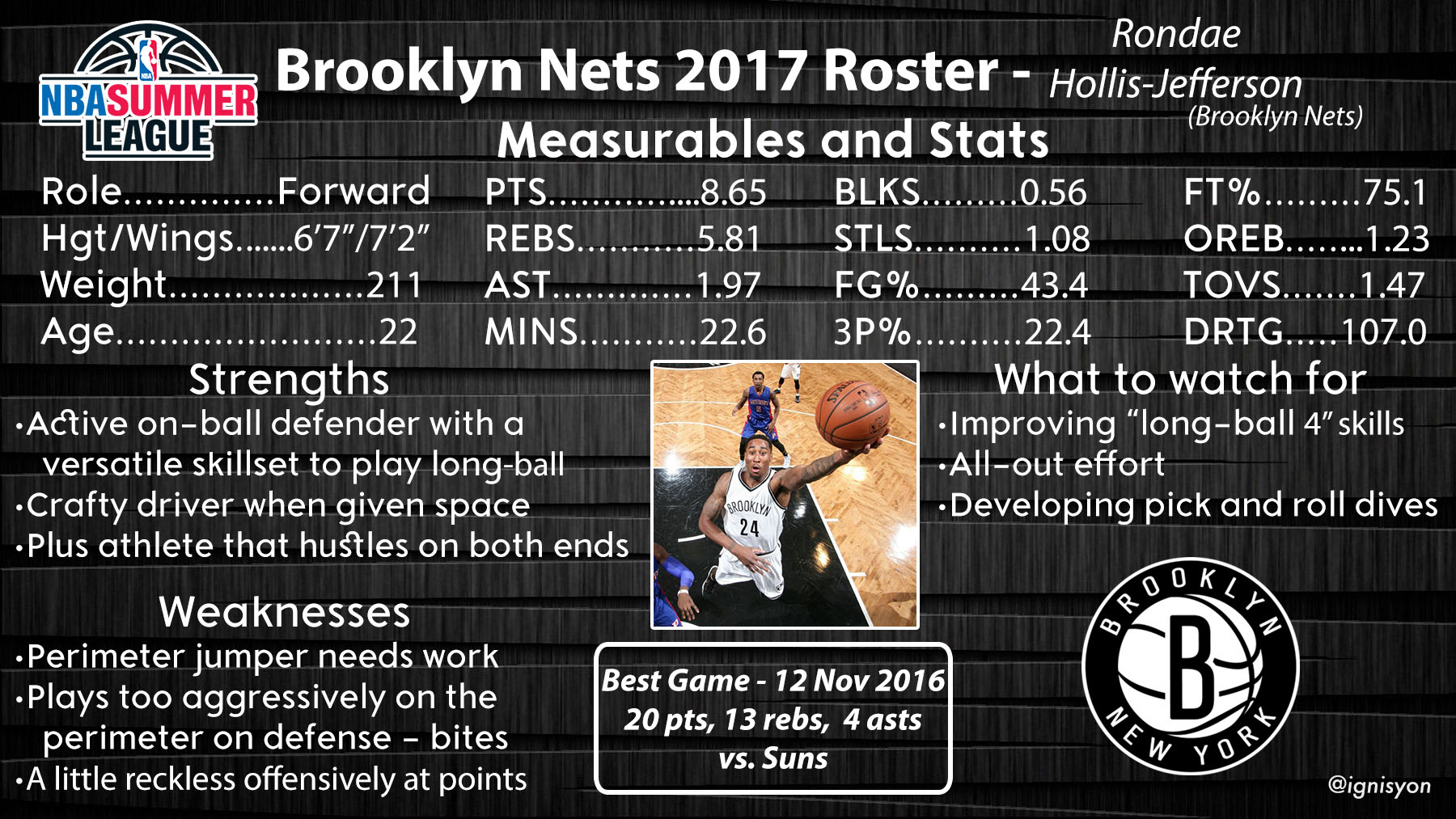 Hollis-Jefferson will look to continue improving as a power forward. Last summer, Kenny Atkinson initially played Hollis-Jefferson on-ball, trying to develop his ballhandling skills. But that did not carry into the season, where RHJ lost his starting small forward spot. He played his best at power forward, forming a nice pick and roll tandem with Jeremy Lin. His jumper has always been an area of concern (like many of these players), so it will be of utmost importance to track his mechanics in the Nets' games. With the Nets not looking to add a more prototypical power forward in free agency (yet), RHJ could be the Nets' starting 4 once again.
Caris LeVert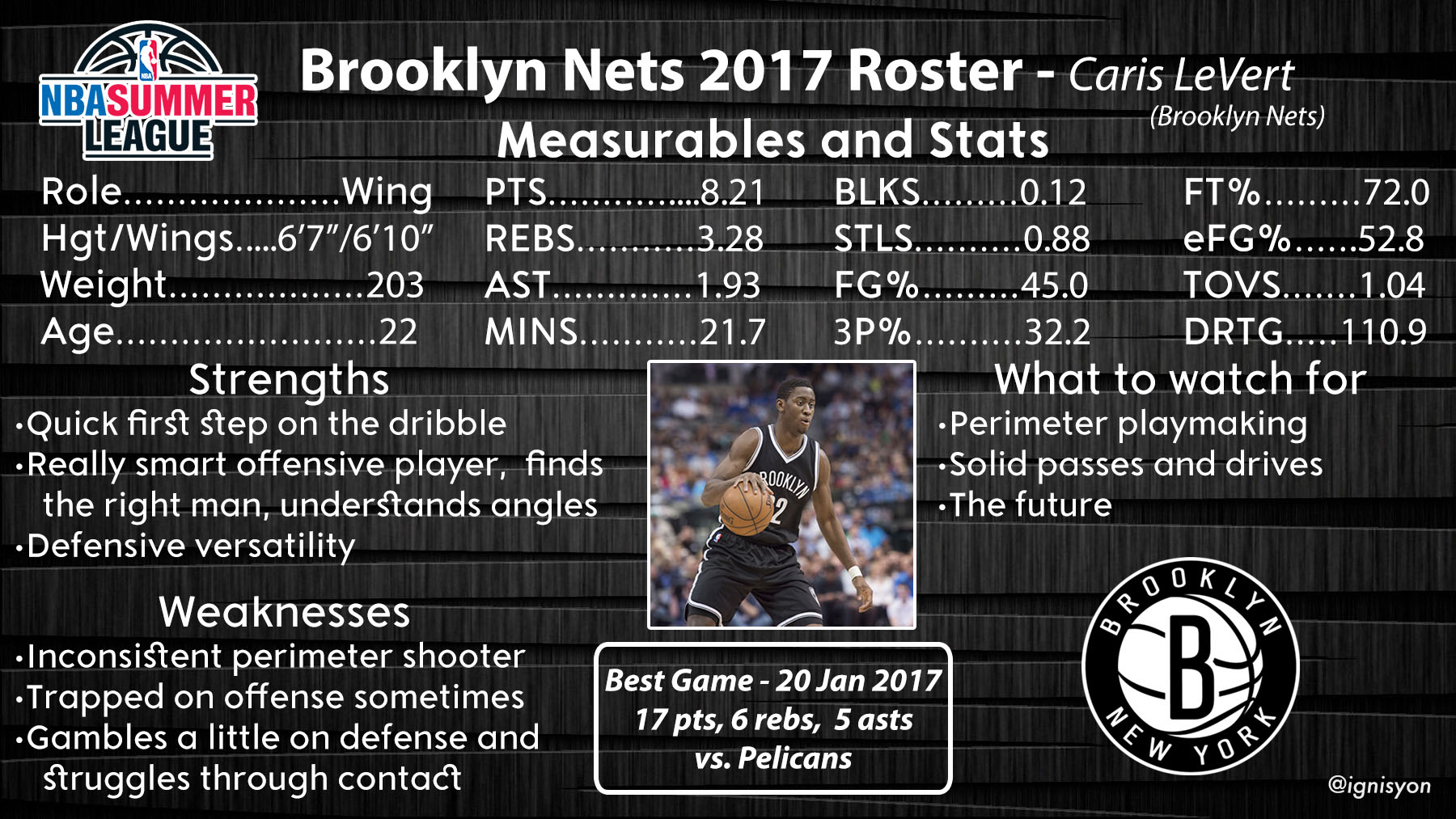 The Michigan product is probably the biggest hope for Brooklyn Nets fans at the moment. LeVert shined at times, showing playmaking and scoring potential. He made dazzling passes and had nifty moves going to the basket. But LeVert's defense, in particular his tendency to be stymied by contact was a concern. LeVert has been working out in Brooklyn, most notably alongside new teammate D'Angelo Russell. If Coach Kenny Atkinson decides to slot LeVert as Brooklyn's starting small forward (of course, assuming that the Nets' summer of chaos doesn't land Otto Porter), he will need to show improved defense against bigger players. Also, his three-point shot needs to be more consistent, despite his solid mechanics.
Isaiah Whitehead